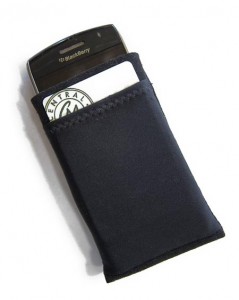 Gizmohound.com recently ordered the Waterfield Designs Suede Jacket Cell Phone Case for review.   Waterfield's Suede Jacket case is one of the thinnest cases out there for a cell phone and comes in a large variety of sizes to fit various cell phones (iPhones, Blackberry's and Droids).  The case is available with an accessory pocket (for earphones, or a few business/credit cards).   The case costs $10–adding the accessory pocket adds another $4 to the cost.
The case is made from soft suede (which Waterfield calls Ultrasuede®)  The material offers scratch protection in your pocket or purse but since it is a soft material it does not offer significant impact presentation.   The build quality for the case is high–well stitched, no threads unraveling and high quality material.   Being able to pick a specific case for your phone means that the case fits your phone very well–in fact when you get it the case will be a bit snug.   However, the suede does stretch over time to make it easy to slide your phone in to the case.
We truly wish this case was available in different colors.  The black suede disappears in a dark purse.   Do remember this is a soft case–it is not ideal for impact protection.  Slipping your phone into and out of the case does take a bit of effort–not great if you're an obsessive person who checks emails and text messages constantly.
If you'd like more impact protection, a case that's easy to slide your phone in and out of and own an iPhone–the iPhone Smart Case might be a better choice.
WaterField Designs is a maker of distinctive, custom-fitted, cases and bags. Unusual in this day and age is that products are manufactured in San Francisco.   We found them to be a responsive company that communicates with you very well about your order.