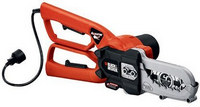 We've had a lot of spring storms lumber through Texas recently resulting in downed trees and treee limbs throughout the backyard. Reading through the pages of warnings that come with a chainsaw is enough to intimidate most people with terms like chainsaw kickback, broken chains, etc. Looking for a better solution I found Black & Decker's Alligator Lopper. The 6″ chain and 4.5 Amp motor is ideal for storm clean up allowing you to prune tree branches and cut up fallen branches into manageable pieces. It makes it easy to cut branches up to 4″ in diameter–far too big for manual pruners and loppers.
Kickback: The most common accident arises from "kickback", when a chain tooth near the bar tip cuts into wood without cutting through it. The chain cannot continue moving, and the bar is driven in an upward arc towards the operator. Kickback can result in serious injuries or death.
The Alligator Lopper is essentially a pair of shears with a mini chainsaw where the top blade should be. The lower jaws grip with fixed lower teeth while the low-kickback chain cuts in one easy motion. The jaws also shields the chain making kickback less likely. You use the Lopper like most shears with two hands–I found that this method combined with the it's light 6.5 lbs weight (half the weight of most chainsaws) made it easy to use. Also, to start the chainsaw up you have to grasp both handles and press down on the switches making it unlikely that you'll start it up accidentally. The jaws seem to grab the branch and prevent skipping around when starting the cut. Another significant advantage when clearing up fallen branches and logs is that you can cut the logs sideways (not up and down like a normal chainsaw requires). Cutting sideways is a bit easier since you don't have to prop branches up on sawhorses as the design protects the saw's tip from striking the ground (a major safety hazard with most chainsaws).
::amazon("B000BANMUY","Alligator Lopper")::Â 
Maintenance is generally easy. The Alligator Lopper's auto chain tensioning keeps it at the right tension. Just loosen the bar retainer bolts with the included wrench and the bar automatically takes out the slack and adjusts the chain's tension. There's no automatic oiling mechanism for the chain–you do have to oil the chain every 10′ of cutting time. Since it is electric you do have to drag an electric cord around–not always easy on a large property. The cord can get in the way when you're cutting in a morass of fallen branches.
Does the Alligator Lopper replace a chainsaw–No. It does make clearing brush and fallen trees a whole lot easier. A truly useful tool for the outdoor toolbox.